Templates with Looks & Brains
Take a peek at our gallery of sleek, professional templates. Whether it's newsletters, announcements, or promotions, we're confident that you'll meet your perfect match. They're all incredibly versatile, easy to customize, and look great on mobile!
Email Personalization
Give your email a unique, personal touch. Direct Mail lets you customize emails using each recipient's name, company name, and up to 15 other fields. You can also tailor custom content using powerful conditional logic and dynamic sections.
Get Instant Feedback
Was this email helpful? How likely are you to recommend our service to a friend? What topic do you want us to cover next? Direct Mail makes it easy to add polls and surveys to your email campaigns. Poll results show up live in your campaign report.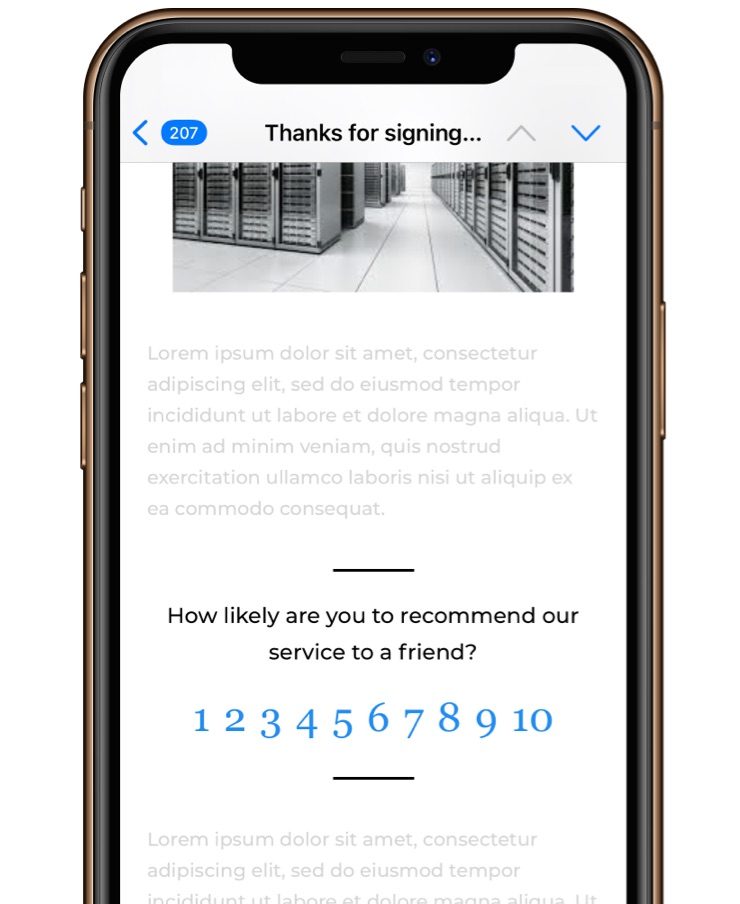 Looks Great in Every Email Client
Behind the scenes, Direct Mail goes to work performing special tricks (like CSS inlining, plain-text generation, and image optimization) to make your email look great in every popular email client.
Want proof? Use our handy Design Test feature to see pixel-perfect screenshots of your message rendered in over 50+ email clients. You'll sleep better knowing your latest and greatest design looks as good in Outlook as it does in Gmail.
Instant Preview
Live previews update as you type, showing you exactly what each of your recipients will see (including custom content). Click a button to send an instant preview of your design to your iPhone or iPad.
Plays Nice with Other Templates
Our feelings won't be hurt if you'd rather use someone else's template. In fact, we make it easy by allowing you to use custom HTML or templates from Mail Designer, Mailchimp, Campaign Monitor or any other document or web page.
Drag & Drop Images
Say so long to slow, clumsy image uploads. With Direct Mail, copy or drag images from any app and drop them right in to your newsletter. We'll make sure they look great on all devices!
Professional Typography
Go beyond the same old, boring email fonts. Direct Mail includes a professionally-curated selection of fonts that will make your email stand out from the crowd.
Infinitely Customizable
Our new templates are 1000% more flexible than before! Add, remove, and rearrange text, image, videos, buttons, and more. Customize what your recipients see even before they open the email, and choose how your campaign will look when it's shared on social media!
Email Sign-up Forms
Grow your mailing list by adding a subscribe form to your website that automatically syncs with Direct Mail. Customizable colors, logos, and form fields let you match your brand's look and personality.
Includes one-click integration with your company's Facebook Page.
Imports Contacts in a Flash
Direct Mail can swiftly import all of your contacts from apps including Contacts, Daylite, Google Sheets, Outlook, FileMaker Pro and more. Importing from CSV files or even MySQL databases is a snap!
Integrates with Thousands of Apps and Websites
No app is an island. Our integration with Zapier lets you connect Direct Mail to over 1,000 popular apps and web services, including Slack, Salesforce, Shopify, and more! Watch as contacts from your web store or customer relationship software are added automatically to your mailing list without you having to lift a finger.

Smart Targeting
Strategically target specific subscribers by manually segmenting your list into different groups. Or, use Smart Groups to automatically segment your list based on rules you specify. Choose from over 30 different criteria.
Assign Custom Fields
Get personal with your subscribers by assigning custom fields for everyone in your list. In addition to the standard first name, last name and company name, Direct Mail can store up to 15 other custom attributes for each recipient, like age, favorite color, physical address and a customer ID, to name a few.
One-Click Unsubscribe
With Direct Mail you no longer have to worry about managing your unsubscribe requests. Once a recipient has unsubscribed, they'll simply be crossed off your list. Oh, we also take care of all of your bounces and spam complaints, too.
Seeing is Believing
Our dashboard gives you clear summary of key campaign metrics, including opens, clicks, bounces, and unsubscribes. See what the most popular links are, as well as top email clients and geographic locations.
Detailed Subscriber Activity
Direct Mail generates activity reports for each individual subscriber. Drill down into the details to see how your readers interact with your email campaigns, including what links they click or when they open each campaign.
Report Sharing
Need to share the results of a campaign with a boss, client, or coworker? We've got you covered. Direct Mail can share your campaign dashboard via a spreadsheet, PDF, or live-updating website.
Compare & Contrast
Compare up to ten campaigns side–by–side to see which ones are landing with the greatest impact. Find out what (or when) works best. We also have beautiful charting, in case you're into that.
Bounce & Spam Processing
Email bounces and spam complaints can negatively affect your email reputation. With Direct Mail, you'll get detailed reporting on bounces and complaints, and we'll take care of unsubscribing them for you to prevent problems down the line.
Live Updating
Click Send and watch results come in immediately as your subscribers open and engage with your email. Updates are pushed right to your screen without clicking refresh.
Google Analytics Integration
One-click integration with Google Analytics lets you link user activity on your website back to the email campaigns that brought them there.
Vanity Tracking URLs
For a white-label experience, Direct Mail can use your own domain name for any open- and click-tracking URLs that are inserted into your email.
Send Easily & Efficiently

High Speed. No Hassle.
Take advantage of our e3 Delivery Service, designed to save you time and headache. Large lists send in a matter of seconds, and we work with email providers around the globe to help your email make it to the inbox. We take care of handling bounces and deliverability issues, too.
Tweet, Pin, Forward, Share
Direct Mail makes it easy for your subscribers to forward, share, or tweet your emails (if you want) by automatically creating a web version of your message. You can even customize how your campaign will be displayed in social media news feeds.
Find & Fix Before You Send
Direct Mail alerts you to broken or unaccessible links, spam filter issues, misspelled email addresses, and all manner of other mistakes that might be lurking in your message—before you send it to 10,000 of your closest friends.
Set It & Forget It
We make it easy to schedule emails to go out whenever you wish. Got a timely promotion? Just create the message now and set your email to send automatically when the time is right.
We Speak SMTP
If you already have your own company mail server, we're good with that, too. Direct Mail can send via your own SMTP server, and can be tuned to respect sending quotas.
Adiós to Ads
It's your email, not ours. That's why Direct Mail gives you the option of removing ads or co-branding from your emails. Keep your design the way you intended it!
Email Authentication
Don't worry about getting bounced due to authentication problems. Direct Mail supports all of the latest technologies, including SPF, Sender ID, DKIM, DMARC, and SMTP over TLS.
Sync & Share Made Easy
Work on your campaigns from any device, and with any colleague, whether you're in the same room or across the globe. Simple, reliable cloud sync features work in the background to keep everyone up-to-date in real time.
With Your Permission
Fine–grained permission control lets you decide who gets full access to edit (and send) your projects, and who gets to just take a look. Collaborators who don't already use Direct Mail can sign up for a free account to work on your project.
Safe & Secure
The cloud means never having to worry about backing up your campaigns again. Your work is stored safely in the Direct Mail cloud and is easily accessible at any time from any device (even offline). Create as many projects as you want.
Works Offline, Too
Direct Mail keeps working at full speed even when an Internet connection is unavailable, and syncing resumes automatically once the network is available again.
Your Campaign is Working, Even When You're Not
Tell Direct Mail when to send an email on your behalf, automatically, using autoresponders! For example, you can trigger an email when someone joins your mailing list. Autoresponders are highly customizable, easy to use, and come with the same great reporting features you already know and love.
Trigger Automatic Messages
Let your subscribers know they're important to you by sending them a celebratory wish, or a special promotion, every year on their birthday.
Create a weekly email training course to nurture leads or generate interest in your business.
Send reminders about upcoming appointments to your customers.
Send targeted follow-ups to subscribers that open or click specific links in your email campaigns.
Integrate with Our API
Use our API to build powerful integrations between your systems and Direct Mail. Synchronize customer lists, add a newsletter signup to your e–commerce checkout flow, programmatically generate campaign content, and more. Learn more.
Not a programmer? No problem. Use Zapier to connect Direct Mail to the other web apps and services you already use.
Make the Most of Your Mac
The Native App Advantage
Don't settle for a clumsy, slow browser-based solution. Direct Mail is a native app designed specifically for macOS, supporting all of the latest technologies, and making full use of the powerful hardware inside your Mac. You'll never lose your work by accidentally closing a tab, or be frustrated by a slow or offline Internet connection. Direct Mail lets you work faster and smarter than the competition.

Why Wait?

Direct Mail is free to try!

See why Direct Mail is the #1 rated email marketing app for the Mac